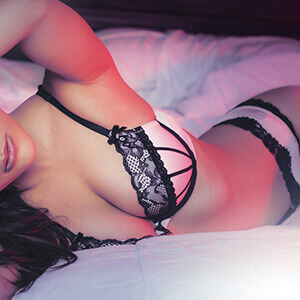 Looking for something extra special?
Are you ready for the very best the alluring and enticing hand-picked Courtesans can offer? The elite Ladies of erotica are waiting to take you on the sexual journey of a lifetime. Ma Belle Cheri's Ultimate Pleasure Experience will open the door to a whole new world of exquisite intimacy and physical rapture that will make you wish the session would never end!
In an atmosphere of absolute trust you can relax and enjoy all the seductive skills and tantalizing talents experienced Ladies are more than willing to lavish upon you and only you. From kissing and cuddling, erotic massage and mutual oral sex to full, supremely satisfying sexual intercourse, this most exclusive and decadent service will leave you panting, and begging for more…
The Ultimate Pleasure Experience takes place in the guaranteed privacy of one of the luxuriously furnished VIP suites. And as with all The Deluxe Services, a wide range of top-shelf beverages and delicious snacks are available for you to enjoy at no added cost.
Experience the highest levels of personal interaction with anyone from the stunningly beautiful selection of Courtesans and allow yourself to be swept away in a maelstrom of blazing passion, erotic lust and almost never-ending physical joy.
So why wait? Phone us on 02 9897 7788 or e-mail us at [email protected]. right now, and book your own made-to-measure, completely individual Ultimate Pleasure Experience. Or talk to one of the friendly and helpful receptionists. And remember, everyone at Ma Belle Cheri is more than keen to enable your sexual dreams become reality. We will do everything we possibly can to make your stay an unforgettable experience. Your every pleasure is our business, and we take our business very seriously.
Or as a discerning gentlemen, would you like to take it to the next level? Sssshhhhh… There is something special for you here.